Open Pharmacy Day
Saturday May 28, 2022 | 9:00 am – 12:00 pm
Byblos Campus
Applicants and future LAU students, joined the Pharmacy Open Day and got an up-close experience of what a typical day on campus is like.
They interacted with LAU students, residents, faculty, and staff, and explored the spaces where they will grow including classrooms, faculty offices, labs, libraries, student lounge, and learned about potential career paths. Our student pharmacists prepared several fun and educational activities. Parents were also in presence, joined in the fun and learned about financial aid and scholarship packages available at LAU.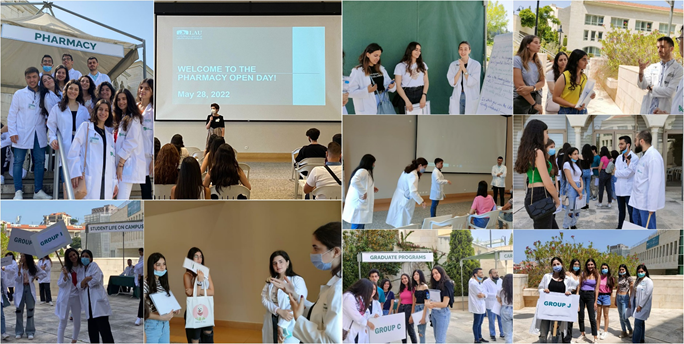 Our student pharmacists prepared a highly informative video to highlight career opportunities for pharmacists by interviewing several of our faculty, and alumni who are contributing to the health of society in education, clinical pharmacy, pharmaceutical industry and World Health Organization. A special thank you to Dr. Aline Bou Maroun and Dr. Lamis Karaoui, Mrs. Rana Slaiby, Mr. Abdo Ghie, Mrs. Rana Shehab, Mrs. Nadine Farhat and all the students who made open day a great success.