Annual Pharmacy Residency Conference 2022: Another year of collaboration!
Tuesday June 21st 2022 marked another year of a fruitful collaboration between the American Society of Health-System Pharmacists (ASHP) accredited pharmacy residency programs in Lebanon; LAU School of Pharmacy/LAU Medical Center-Rizk Hospital & American University of Beirut Medical Center (AUMBC)! This year the Joint Annual Residency Conference 2022 was hosted at AUBMC and was extra special as our residents, Christina Baroody, PharmD & Gassia Balian, PharmD and LAU alumni/current residents at AUBMC, Jad El Tom, PharmD and Celia El Halabi, PharmD, presented their research project results in the presence of colleagues from the pharmacy teams at Hotel Dieu de France (HDF), AUMBMC and LAUMCRH.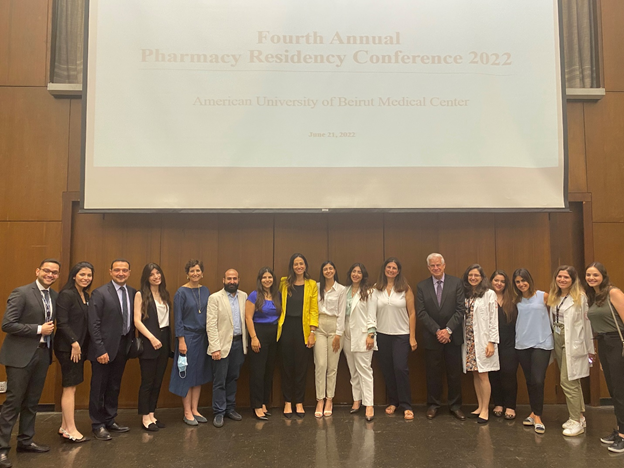 The residents presented prospective interventional studies as well as retrospective research of interest to the healthcare community in Lebanon and globally. The presentation sessions included the following:
Evaluation of Pharmacist-Initiated Discharge Medication Reconciliation and Patient Counseling Procedures in the Emergency Department, by PGY1 Pharmacy Resident: Christina Baroody, Pharm.D., LAUMC-RH.
Evaluation of an Antibiotic Automatic Stop Order in Neonates with Early-Onset Sepsis in a Lebanese Tertiary Care Hospital: A Retrospective, by PGY1 Pharmacy Resident: Celia El Halabi, Pharm.D., AUBMC
Evaluation of the Efficacy and Safety of Intermediate Anticoagulation Dosing in COVID-19 Hospitalized Patient. by PGY1 Pharmacy Resident: Gassia Balian, Pharm.D., LAUMC-RH
Efficacy and Safety of Direct Oral Anticoagulants in Patients with Cancer Associated Venous Thromboembolism: A Retrospective Study by PGY1 Pharmacy Resident: Jad El Tom, Pharm.D., AUBMC
The attendance was also enriched by the presence and active participation of diverse faculty and interprofessional healthcare members, residents and students from both centers and universities. In his warm welcoming speech, the director of the PGY1 Pharmacy Residency Program at AUBMC, Dr. Rony Zeenny, an LAU alumnus, welcomed the collaboration between AUBMC, LAU, LAUMCRH and HDF. The conference was moderated by faculty and practitioners from both LAU/LAUMCRH as well as AUMBC which enriched the Q&A sessions.
According to Dr. Chamoun, "learning from and with our pharmacy residents throughout Lebanon is a great opportunity to support pharmacy driven research and advance pharmacy practice."
Dr. Alsharif thanked the efforts of all involved to make this residency conference a success. He also commented on the richness of the research projects and the highly professional presentations. He encouraged collaborations in the future on the residents' projects across medical centers nationally and regionally to enhance the impact of the research projects. He also suggested to expand the conference to invite residents from the rest of the Arab World.
Wrapping up on the residency year 2021-2022, We wish our residents Dr. Gassia Balian who is pursuing practice in Lebanon and Dr. Christina Baroody who is off to complete a PGY2 in Investigational Drugs and Research at UT Southwestern Medical Center in Dallas, Texas, the best of luck! We are so proud of our residency graduates and LAU SOP alumni!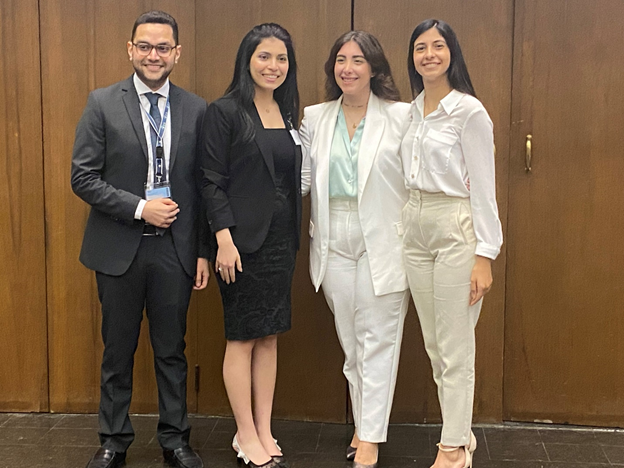 From Right to left:
Drs. Jad El Tom and Celia Halabi (PGY1 Pharmacy Residents at AUBMC)
Drs. Gassia Balian and Christina Baroody (PGY1 Pharmacy Residents at LAU SOP/LAUMCRH)