School Applauds Top Students
The School of Pharmacy recognized the hard work and dedication of its best students at a special ceremony Monday April 24 in Byblos, alongside their families and peers.
This year's Student Honor Ceremony, as it's officially known, was also graced by the late Sara Khatib's mother, father and grandmother, who established in 2015 an endowed scholarship in Sara's memory.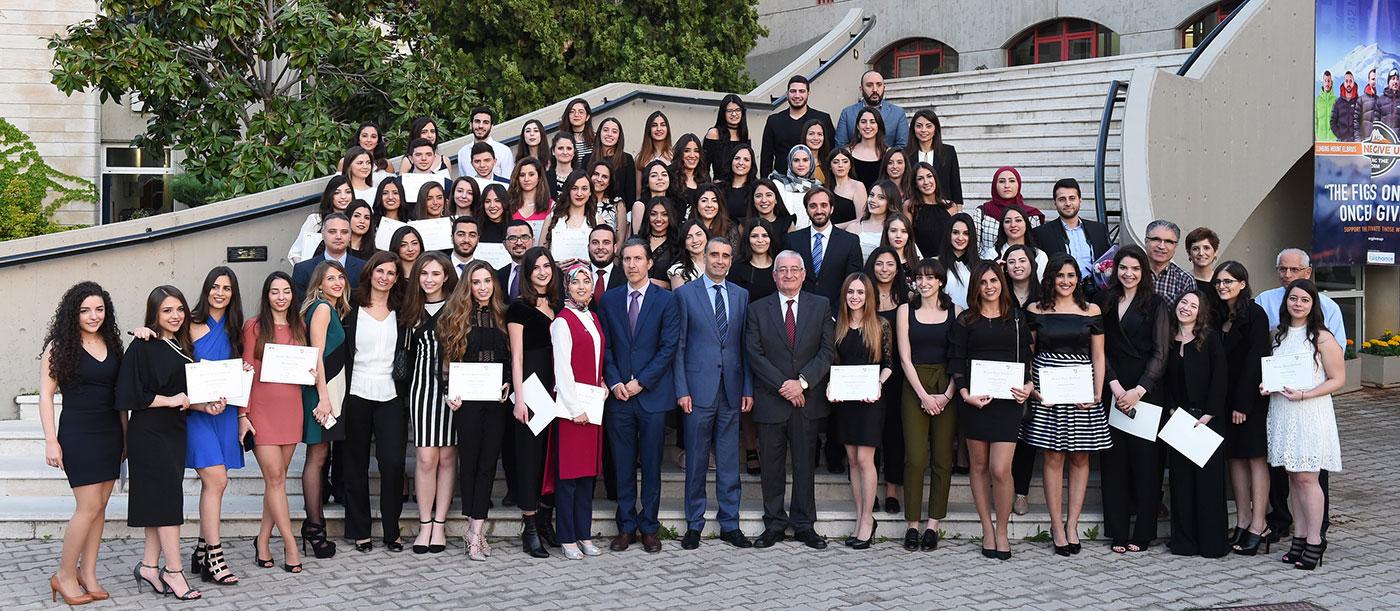 The honorees with LAU officials.
Seventy-eight students received pins and certificates for achieving individual cumulative GPAs of 3.5 or higher. The prize for the highest average —3.97— went to Ahmad El Ouweini.
"Behind the students, we need to acknowledge the parents," said Dr. Imad Btaiche, dean of the School of Pharmacy.
"Families believe in the power of education and push [students] to the forefront of success, and today we see the outcome," he said.
He underscored the school's holistic education approach, saying the focus is not only on "technical skills, but also communication, leadership, and giving back to the community."
Assistant Provost for Special External Projects Wassim Shahin, representing Provost George K. Najjar, pointed out that the honorees had already developed "habits of excellence" and urged them to take a step further by setting goals in their lives.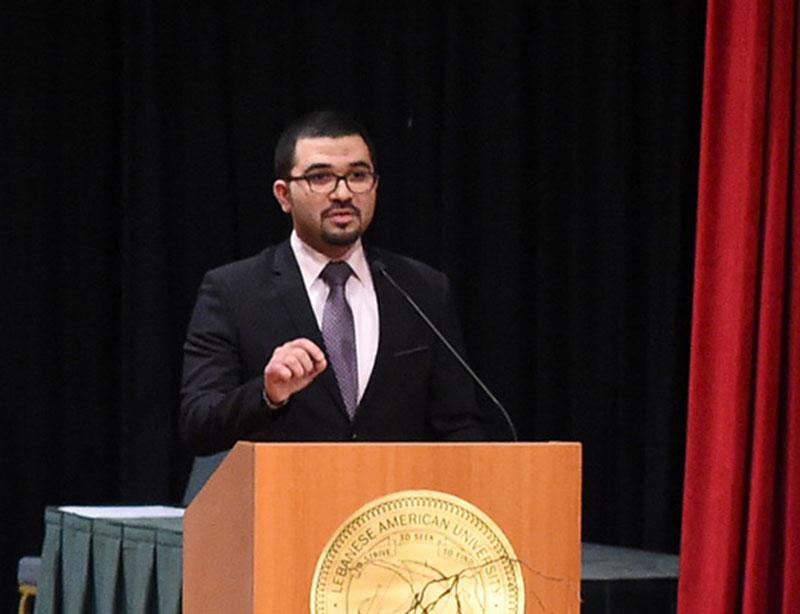 Ahmad El Ouweini, holder of the highest GPA.
El Ouweini collected his prize amid whoops and cheers from his classmates, and thanked his parents, who live abroad and could not attend the ceremony.
He plans to enhance his knowledge of pharmacy best practices in the United States, then return to Lebanon in the hopes of contributing to the reform of the healthcare system in the country.
He is honing his leadership skills by reading books and listening to daily podcasts by international experts. "If there are any workshops on leadership, I go and sign up straight away," he said.
El Ouweini was praised for his "dedication, professionalism and respect for others" in the words of Dr. Jad Abdallah, assistant professor in the department of pharmaceutical sciences.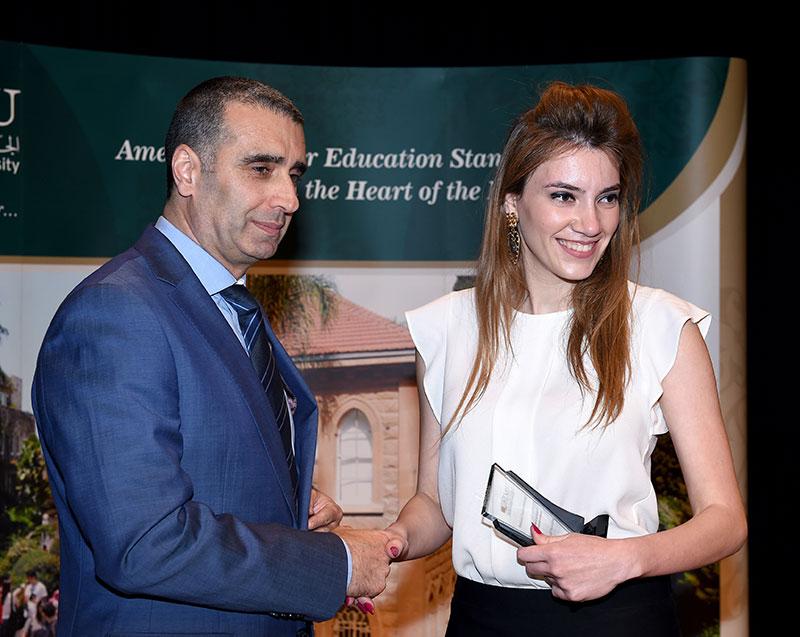 Karen El Boustani receives the Sara Khatib Inspiration Award from Dr. Imad Btaiche.
Professional Year 3 student Karen El Boustani was this year's recipient of the Sara Khatib Inspiration Award in recognition of her exemplary determination, positive attitude and high academic standards. El Boustani suffered permanent sensory impairments at the age of two following pneumococcal meningitis.
Fellow students recall her piano recital at the 2014 White Coat Ceremony as one of the most inspirational moments of their lives.
"This award has given me confidence," said El Boustani. "It will encourage me for my entire life now," she added.
Sara Khatib was a pharmacy student who passed away in 2014. Her parents established an endowment in her memory to help other students who remain positive in the face of significant life challenges.
"I think Sara would be very happy if she could see this award being given today," said Sara's mother, Rolla Khatib. "She managed to be happy until the very last moment and tried to live her life to the fullest," she added.
After the ceremony, as students gathered for photos and refreshments, they reflected on their achievements in the company of relatives and faculty.
Nicholas Mouawad, whose daughter Maria was one of the honorees, remarked how she was flourishing at LAU. "We can tell she is learning a lot and is happy to be a student here. LAU gives you the chance to be in the best position," he said.
LAU's School of Pharmacy was established in 1993. It offers two professional degrees: a bachelor's and a doctorate. Teaching and learning methods combine theory and practice, with students enjoying unparalleled clinical experiences and access to a state-of-the-art Clinical Simulation Center. The school's Pharm.D. is the only ACPE-accredited program outside the United States.
Dr. Abdallah highlighted the wide range of options open to pharmacy students after completing their education at LAU.
"They may choose to stay in the academic field and continue post-graduate education, or go into clinical work in hospitals. We hope that our graduates stay in Lebanon, although some have plans to complete their studies or work abroad," he said.