LAU to Pilot Advanced Simulation Techniques in Pharmacy Curriculum
Having completed a clinical simulation training program, two School of Pharmacy faculty members are preparing to advance the use of simulation in the professional years of the curriculum.
Clinical associate professors Lamis Karaoui and Aline Saad received LAU's Clinical Simulation Diploma in November.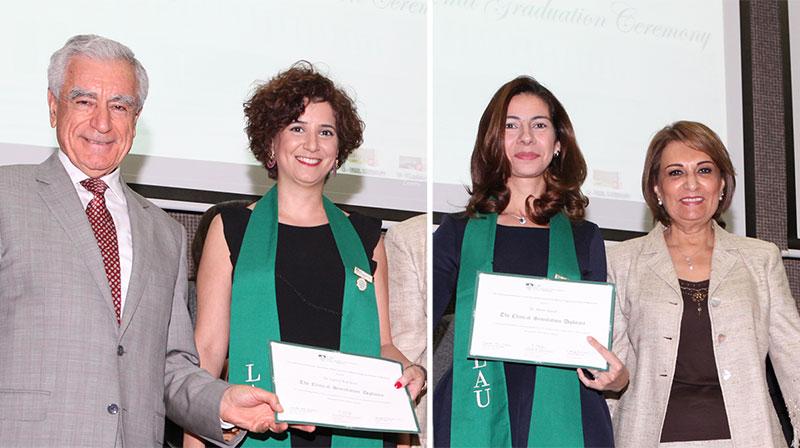 Drs. Lamis Karaoui (left photo) and Aline Saad (right photo) at the Clinical Simulation Diploma graduation ceremony with LAU President Joseph G. Jabbra and Dr. Zeinat Hijazi, Acting Dean of the Gilbert and Rose-Marie Chagoury School of Medicine.
"It was an eye-opener for me to get acquainted with validated tools for the assessment of teamwork through simulated scenarios," said Dr. Karaoui, who also serves as Director of Experiential Education at the school.
"Most importantly I learned that OSCEs [Objective Structured Clinical Examinations] constitute an excellent tool for the assessment of student performance," she added.
"We will be piloting an OSCE initiative in spring 2017 that is focused on oncology and soft skills, for students completing their second professional year, during the pharmacotherapeutics class," said Dr. Saad.
The professors are trying to identify courses in the basic sciences and in the pharmacotherapeutics series, that may benefit from simulation sessions.
Basic simulation activities were previously introduced in courses such as physical assessment, immunization, and the Introductory Pharmacy Practice Experiences, Dr. Karaoui explained.
In those sessions, students practice patient counseling (e.g., inhaler use), health screening and disease management (e.g. glucose and blood pressure monitoring) and aseptic techniques.
Beyond that, Dr. Saad values the fact that more advanced simulation methods can be used to assess soft skills in the context of inter-professional education, a domain in which LAU is a regional leader.
LAU's Clinical Simulation Center, where the diploma program took place last year, is the largest facility of its kind in Lebanon. It spans over 900 square meters, including eight practice rooms (out-patient and in-patient clinics) boasting state-of-the-art medical equipment and high-fidelity manikins.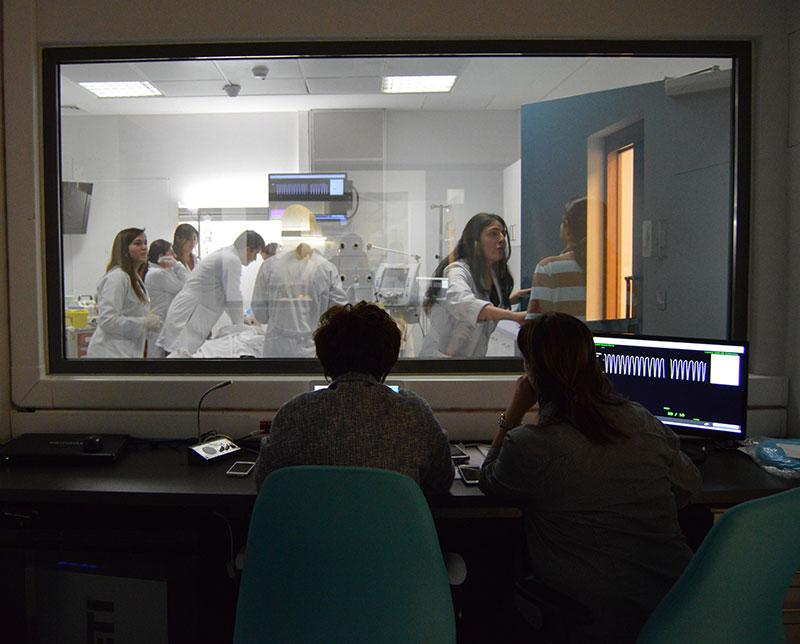 LAU students work as a team in an emergency scenario with a high-fidelity manikin and a "family member" of the "patient," as instructors observe.
The three-module diploma curriculum exposed participants to the pros and cons of different types of mock-ups, the design of simulation scenarios, the importance of formative assessment and effective feedback and debriefing.
Dr. Saad said that it was an interactive and practical experience where participants immediately applied acquired concepts.
Dr. Karaoui also enjoyed networking with a wide variety of practitioners, exchanging ideas and brainstorming on how to enhance the delivery of medical/pharmacy education, and ultimately advance patient care.
Simulation is gaining more importance in healthcare education because it ultimately leads to improved patient safety, and it "satisfies the call for a new training model not based solely on apprenticeship, as well as desire for standardized educational opportunities and the need to practice and hone aptitudes in a controlled environment," according to Dr. Saad.
The Accreditation Council for Pharmacy Education (ACPE) supports its use in Introductory Pharmacy Practice Experiences (IPPEs) for up to 20% or 60 hours of the total 300-hour experiential education requirement and it provides a list of acceptable simulation activities in the 2016 accreditation standards, explains Dr. Karaoui.
The planned integration of simulation-based education in the pharmacy curriculum aims to better prepare students for direct patient care in a safe and controlled environment.