Op-ed: Clinical pharmacists at the frontlines of treatment and research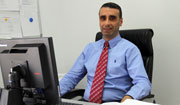 Associate Dean for Academic Affairs Imad Btaiche, School of Pharmacy at LAU Byblos.
Click on the photo above for larger version.
March 15, 2012—
Clinical pharmacy is defined by the American College of Clinical Pharmacy (ACCP) as "a health science discipline in which pharmacists provide patient care that optimizes medication therapy and promotes health, wellness, and disease prevention." Clinical pharmacists both manage the medication therapy of their patients and generate research focused on treatment and prevention of disease, and overall improvement of quality of life.
Clinical pharmacists are increasingly integral to many health-care settings, but their discipline is in fact relatively young. Two major shifts in the American pharmacy profession precipitated the emergence of clinical pharmacy in the 1960s: a shift in the focus of pharmacy education from chemistry to biology, and in pharmacy practice from product to patient. The medical community had just begun to understand the costs and consequences of inappropriate use of medications, and the nascent field of clinical pharmacy — with its emphasis on patient education — made itself immediately valuable in this area.
Select U.S. pharmacy schools were soon offering the Doctor of Pharmacy (Pharm.D.) degree, and the era soon saw the emergence of pharmacist-run drug information services, investigational drug services, and pharmacokinetics dosing. Two decades later, the American Society of Health-System Pharmacists (ASHP) hosted the Hilton Head Conference, a landmark event that helped to establish once and for all the concept of pharmacy practice as a clinical profession, with an emphasis on the pharmacist role in direct patient care.
The need for clinical pharmacy services grew even more pressing with the expansion of healthcare delivery, development of new medications, rising drug costs and the increasingly complex pharmaceutical needs of an aging population. The most critical factor in the demand for clinical pharmacists, however, is the mounting concern for drug safety. Errors in prescribing, dispensing, and taking medications rank among the most common medical errors, annually harming about 1.5 million people, causing 7,000 deaths, and incurring more than $3.5 billion in added medical costs in U.S. hospitals.
Clinical pharmacy education and training have had to expand to meet this rising demand. The Pharm.D. degree is indeed now the only professional pharmacy degree offered in the U.S. (the Bachelor of Science in Pharmacy was abandoned in 2000). Pharm.D. programs accredited by the Accreditation Council for Pharmacy Education (ACPE) follow rigorous standards for didactic and experiential education, laying the foundation for clinical knowledge and preparing graduates for residencies, fellowships, and other post-graduate studies. As clinical pharmacists advanced in clinical knowledge and expertise, they have expanded the scope of their practice in hospitals and ambulatory care sites. Clinical pharmacists manage medication therapy independently or in collaboration with other healthcare professionals, educate healthcare professionals and patients about appropriate medication use, and generate clinical, translational, and outcome research.
The Institute of Medicine's 2000 report, "To Err Is Human: building a safer health system," noted that "the pharmacist has become an essential resource in modern hospital practice. Thus, access to his or her expertise must be possible at all times." The institute's 2007 report, "Preventing medication errors," went even further, maintaining that the inclusion of pharmacists on the interprofessional team for patients receiving complex medication regimens substantially improves the quality of therapy, reducing medication errors and adverse drug events. Looking back over the last half-century, it is clear that clinical pharmacy has decisively reshaped and optimized patient outcomes from the use of medications. It is a matter of time before it becomes the norm.